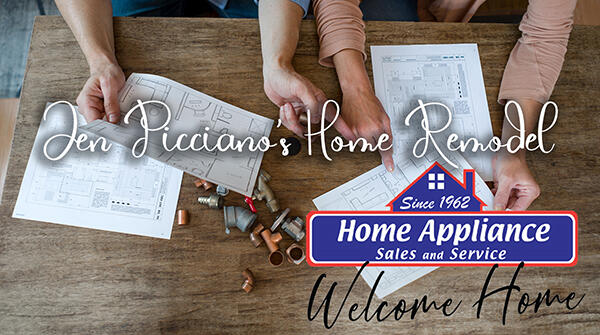 Week #2 Update - September 25, 2023
My husband and I are on the front end of a big renovation project at our new home. And that means lots of big decisions that I want to get right. That includes the appliances in my new kitchen, where I'm going to be cooking and using these appliances every day. I spent some time with the sales staff and the in-house chef at home appliance sales and service---and the guidance, advice and real-world experience they shared was invaluable. They helped me make the right selections for our project, factoring in my budget and the timing of construction. It was exactly what I needed when I was feeling overwhelmed. I walked out feeling informed, and confident in both my decision and in the service I know I'll get from Home Appliance Sales and Service from placing my order, to delivery and installation. Shop around on their website, www.yourhomeappliance.com for kitchen and laundry appliances. If you have a particular brand or model in mind, like I did, you can even see the specific items they have on display at their showrooms on Pearl Road in Brunswick or on Jaycox in Avon
Week #1 update - September 18, 2023
Welcome to something new on majic1057.com! I'll be sharing all that's going on with a big project in my world. My husband and I bought our dream property and we've got big renovation plans to make it into our forever home. Each week I'll be bringing you renovation updates and sharing our experiences. This is all new to me, and I am leaning on friends and contacts I've developed in Cleveland, so we can make the best choices for our home. I knew I wanted to start with the appliances for the kitchen. A kitchen is the heart of a home, and I run a pretty busy home kitchen. My husband jokes it's a semi-commercial kitchen. I knew I wanted to put a lot of thought and energy into what would go in it. I studied reviews, got personal recommendations and I asked a lot of questions. And I was so excited to hear about the large showroom Home Appliance Sales and Service has on Jaycox Road in Avon. They had so many full kitchen set ups for me to look at and learn about so I could make the right decision for our budget and our lifestyle. The first step was to make an appointment with them and I got great one-on-one time with the sales staff and their in-house chef who gave me incredible insights on the product lines and models I was interested in. This is the fun stuff!